A Next Metal Gear Is ...
an iPhone game. I mean, I can't say I saw this coming, but it certainly makes sense; the teaser page's URL had "MGST" in it, now standing for
Metal Gear Solid Touch
. And the little equation makes some sense too; "i" as in iPhone, "!" is very much an MGS associated symbol, but the power symbol and green font is still a mystery to me. Anyways, here are the first two screenshots: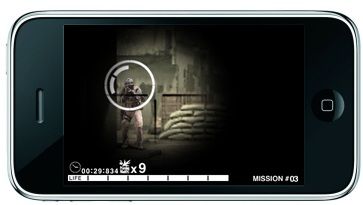 The game, which is set for Spring 2009 according to the press release, will take place in what seems to be during
Metal Gear Solid 4
:
"
Metal Gear Solid Touch focuses on action elements of Hideo Kojima's classic stealth series, and will see series veteran Solid Snake embark on an all-new mission. Using locations and characters introduced in Konami's Metal Gear Solid 4: Guns of the Patriots, Metal Gear Solid Touch initially offers eight action-packed stages, with more to be added at a later date. The new title gives the player control via the Apple systems' touch panel, and also allows users to pan in and out of the action. Replay value is also enhanced via bonuses such as wallpapers and images that are attained by completing key elements within the game.
"
From the screens alone I will say the game seems to boast some graphical prowess, but I'd have to see it in motion first. But, being an open
MGS
fanboy, chances are I'm buying this regardless... I'm just more or less curious as to exactly how canon this title will be, and how open it will be to those that haven't played through
MGS4
.
Also announced along side
MGST
are Silent Hill: The Escape, and Frogger; but those titles didn't have cryptic teaser sites now did they?
P.S. That "A next Meat Gear is ..."
teaser page
now reads "METAL GEAR SOLID TOUCH" in the window header. Just in case you wanted another confirmation.