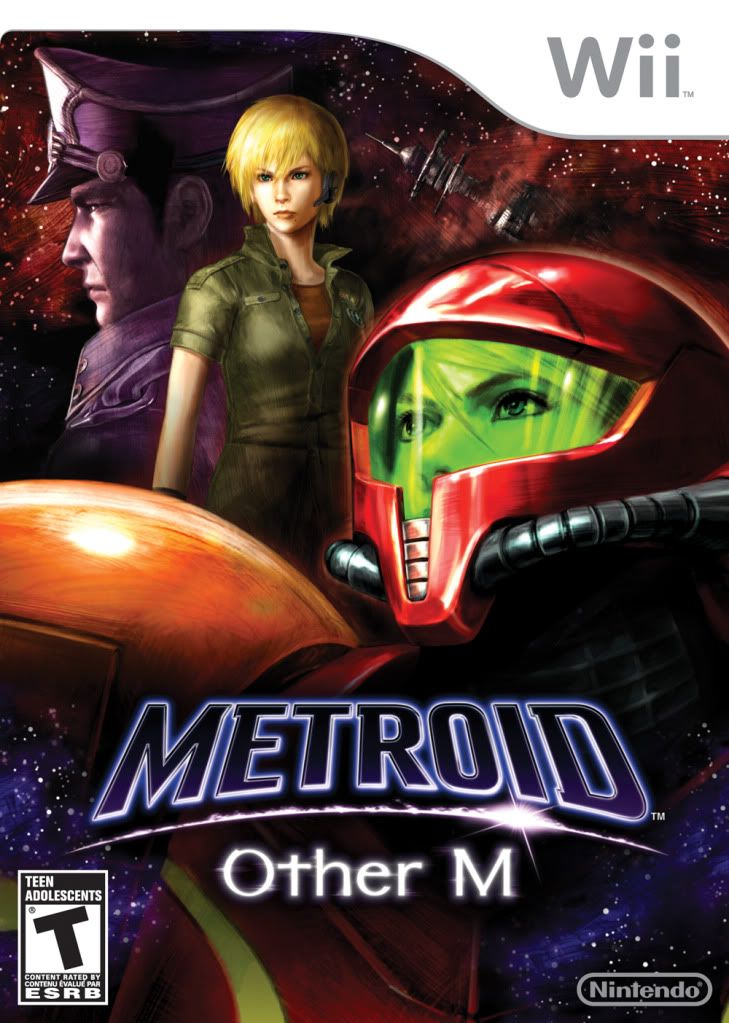 I would like to start of by saying that I had high hopes for
Metroid: Other M.
It's been far to long since we've had a good
Metroid
title, and
Other M's
mix between 2D, 3D, and first person shooter seemed like it had a lot of potential. On that note, I would like to say that I was not disappointed by
Other M
, but at the same time the game did not meet my expectations.
Other M begins with the ending scene from Super Metroid, which admittedly is pretty damn cool. Seeing one of the greatest endings in video game history come to life in full-on 3D immediately gets you hyped to play this game. Unfortunately, immediately following this cut-scene is a tutorial on the games controls, which is where the problems begin. At this point you will have realized that the game is controlled by a single Wiimote. At first this was fine, everything was going swimmingly. Then first person mode is introduced. I immediately began to see problems, the biggest one being that fact that without a nunchuck it is impossible for you to move your character while in first person mode, and lets not forget that the only time you can use missiles is while in first person mode, meaning that the game literally forces you to use it when fighting a boss, or simply a strong enemy.
Notice how above I said "a boss
or
a strong enemy",
well this is where my next problem with the game comes in. Usually you are simply fighting bats, or small rodents, that are easily killed with a shot or two from your cannon, but occasionally you will come across a stronger enemy, almost like a mini boss, which I could not stand. Nine times out of ten I found myself dying on these mini bosses more so than I did on the actual bosses. The biggest problem with the mini bosses was the fact there was always a specific way you needed to kill them, otherwise they would simply stay alive forever. Sometimes you would need to jump on there head, other times you would need to shoot them in a weak spot, perhaps you would need to go first person and fire a missile at them, or maybe you needed to do all three of these in a specific order before the mini boss would finally go down. It may not sound that difficult, but you need to keep in mind that these bosses would deal and overly powerful amount of damage (usually 40-60 points of damage), and they constantly stuck you in a 2-3 hit combo that you simply could not escape, and 90% of the time the doors to the room would lock until you had beaten this monster.
Which leads me to my next, and final, complaint about
Other M
. When I think
Metroid
I think of a few very simple things:
1) Exploring a deserted and unknown planet somewhere in the depths of the galaxy that contains...
2) Gigantic bosses that are guarding a wonder prize that is an...
3) Awesome power-up, sometimes old, and sometimes new.
Sadly,
Other M
disappointed me in all three of these areas. Throughout the course of the game you are taking orders from captain Adam Malkovich, he tells you exactly where to go, and exactly what weapons or power-ups you can use. With that I would like to thank everyone who ever complained about how "Samus always loses her powers at the beginning of every game", now I can only assume it is because of those people that Team Ninja decided they should switch it up. So, all you complainers, you got your wish. Samus starts with all of her powers from
Super Metroid
, but she decides not to use them until Adam tells her she can. This means that you will do exactly what Adam tells you to do, go exactly where Adam tells you to go, eventually fight a boss in these areas, and... receive absolutely nothing after defeating the boss. Now, I will admit that
usually
Adam gives you a new power-up while you are fighting a boss, but it doesn't have nearly the same effect as the classic
Metroid
style. The entire game I felt like I was accomplishing nothing, and that defeating the random bosses was completely pointless.
I realize that up until now I have basically done nothing but complained about what was wrong with Other M, but now that I have gotten all of that rotten stuff out of the way, I can focus on the things that I truly enjoyed about the game. The first thing that I would like to focus on would be the story.
I truly did enjoy the story of Other M, it was really what kept me going. Throughout the game you will find out a bit about Samus' past, why she quit the Galactic Federation to become a bounty hunter, and my personal favorite: How Ridley continues to re-appear in every game. That's right, as far as the story goes, Team Ninja definitely did their homework, and it certainly shows.
Another thing that I enjoyed was the battle system. I know that this is odd for me to say, considering that I was complaining about it earlier, but earlier was me complaining more about how over powered the mini bosses seemed to be. In the end the only problem I really have about the battle system is the fact that you can't move once you have entered first person mode. Other than that I liked how they went about handling the battle system, I enjoyed the way they allow you to dodge oncoming attacks, I enjoyed how fast paced the game was, but the thing I enjoyed most of all was jamming my cannon into a monster's skull, throat, or gut and firing a charge beam. It truly is a good feeling, especially if it's against a mini boss that has killed you 5 times.
Continuing with the three ideal things that each
Metroid
game should have,
Other M
was rather disappointing when it came to exploring and power-ups; though it did have a good amount of gigantic bosses that you needed to face. And on top of that, there were also a few recognizable faces among the bosses. Ridley being one of them, of course, but there was also an appearance of another Queen Metroid, just like the one you fought in
Metroid II
. Another familiar face is Nightmare, the gravity controlling monster that was first seen in
Metroid Fusion
(which takes place
after
this game).
All-in-all I think that the biggest problem with
Metroid: Other M
is simply the fact that it is a
Metroid
game. If it was a game that had no connection to the
Metroid
series whatsoever, like a new project from Nintendo and Team Ninja, I think I would have enjoyed it more, but the game truly just didn't have a
Metroid
feel to it. Still, if you're a die-hard
Metroid
fan like myself, and want to collect all the games, then you will not regret buying it. If not, then
Other M
is definitely worth a rent; you'll probably end up liking the game much more than I did because you won't be judging it against the other
Metroid
games.
Overall Score: 7.6/10