Having purchased the series all at once, its only fitting that I've reached the third book of Bryan Lee O'Malley's
Scott Pilgrim
series already;
Scott Pilgrim & The Infinite Sadness
, which continues right after
Volume 2
, was originally published by Oni Press back in 2006. And typing these dates makes me regret not getting into the series sooner...
Story
Scott Pilgrim & The Infinite Sadness
continues with the The Clash at Demonhead (another video game reference, look it up) concert from the end of Vs. The World, with Scott still unsettled by the sight of ex-girlfriend and the band's lead singer, Envy Adams, and at the same time is ready to fight with the band's bassit and one of Ramona's seven evil ex-boyfriends, Todd Ingram.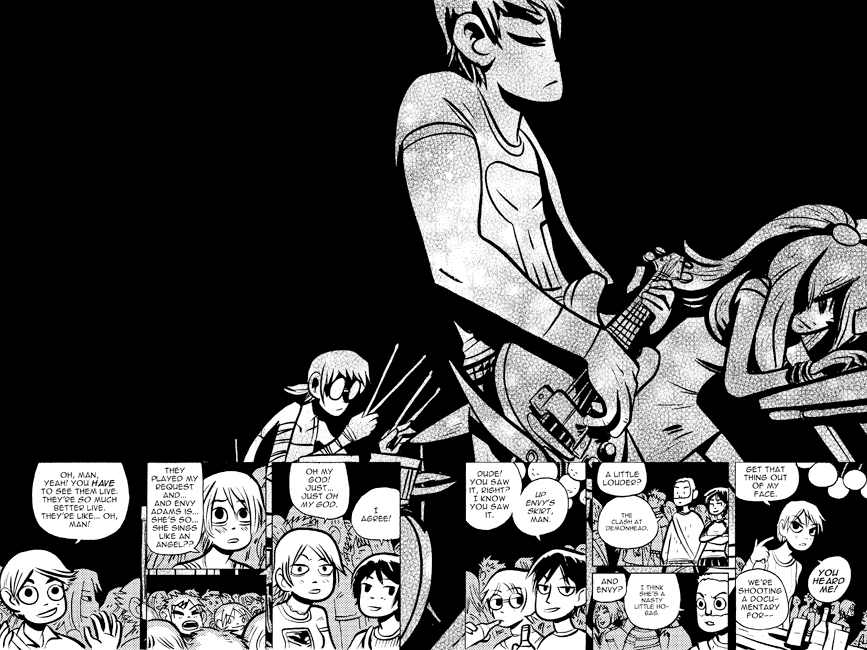 What makes this book feel different from the previous is definitely the story, as most of the book is focused on the three members of The Clash at Demonhead more so than the familiar
Scott Pilgrim
cast. Of course the members of the band have strong influences on our regulars, what with Envy being Scott's former love, Ramona and everyone else hating Envy, and Todd having to fight Scott; but none the less, the inclusion of new faces and the focus being on them made this book feel a bit more fresh.
Writing
As with before, the writing of
Scott Pilgrim
continues to be amusing, relatable, and full of music and game references. The title alone is a reference to the Smashing Pumpkins' 1995 album,
Mellon Collie and the Infinite Sadness
; and Scott even wears one of Billy Corgan's 'ZERO' shirts. As stated before though with the story, this third book is more so about the members of The Clash at Demonhead more so than the characters we've come to know already. Not that it's bad, as it overall feels somewhat fresh, but these characters are just very one sided and don't seem as interesting as everyone else.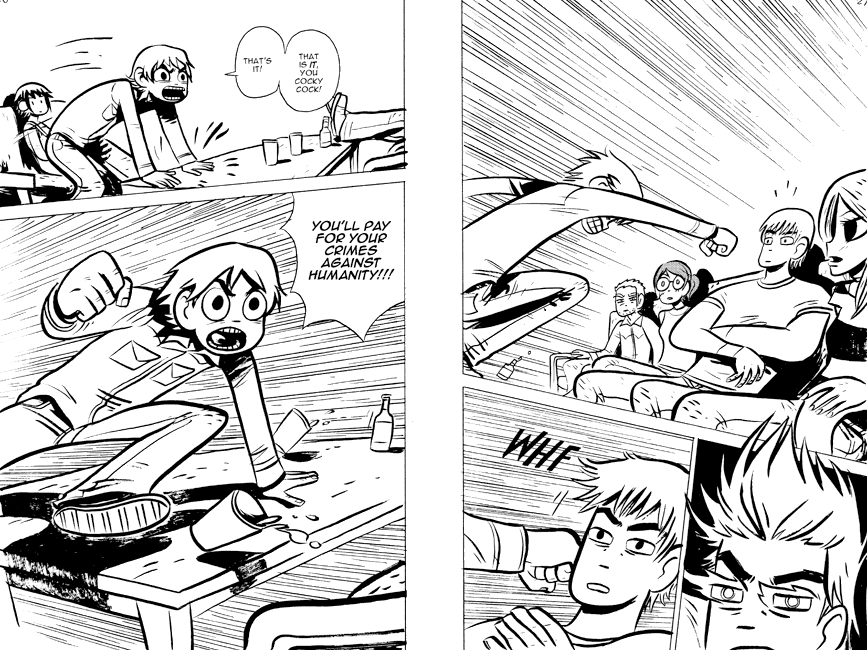 There's also a bigger focus on humor this time around, more so absurd and/or spur of the moment sort of stuff. Many a time things will come out of no where, or end abruptly. But there's a lot of interestingly amusing things, like Todd Ingram's psychic abilities, gained by becoming a vegan. Or Ramona being able to whip out a giant hammer (+2 against girls) from her small handbag in what is really the first Ramona-centric scene in these first three books. It's more or less from out of no where, but if the ending of the first thing was anything to go by, I should expect it by now.
Artwork
With a series like this, constantly illustrated by the same person, it's really difficult to constantly re-analyze the style. However, much like the step from the
volume one
to
volume two
, the artwork this time around becomes more complex and if there's anything I noticed it was a focus on light and shade, as well as the use of gradient shading something not often seen in black and white publications.
Though I did have one gripe about the artwork this time. I'm not sure if it was due to time constraints or what, but there's a select few scenes that use blurry photographs in place of drawings. It's really only few a few backgrounds, but they really stood out to me, in a bad way, and I think that really retracted from the book's nice style. Also, the end of the book contains some extra guest art, but I can't say I dug any of them over O'Malley's style for these characters.
Overall
Scott Pilgrim & The Infinite Sadness
is a great continuation of the currently enthralling storyline, but there's just something about it that really didn't click with me like the first two books. It's still good, there's no denying that, but I think that while the introduction to new relationships between new characters is interesting, there seems to be too much going on at once and it makes it a little harder to follow than I would have liked. Like it or not, it's still a good book, and you'll need to read it if you want to get to volume four anyways.
Overall Score: 8.8/10
For more on
Scott Pilgrim
visit:
scottpilgrim.com
For more on Bryan Lee O'Malley visit:
radiomaru.com