After a long wait, book reviews finally come to
View From Heaven
.
To start off the feature, I'll be a reviewing a book I sadly only picked up recently: the first volume of Bryan Lee O'Malley's popular series,
Scott Pilgrim
; or as this first book is titled,
Scott Pilgrim's Precious Little Life;
published by Oni Press
and originally released in 2004.
Because this is the first book review for View From Heaven, the organization of the reviews may change over time, for now though, this seems to work best.
Story
While every series description, and even the back of the book, state that
Scott Pilgrim
is about the titular character fighting off this girl's, Ramona's, seven evil ex-boyfriends... the fact of the matter is that that never even comes up until the final pages of this first volume; which in all honesty really mislead me as I read this, because I was trying to figure out where people got such an idea.
As for the true story,
Precious Little Life
centers around the title character, Scott Pilgrim, a 23 year old slacker, and bass player in the band, Sex Bob-Omb (yes, an obvious Mario reference), who lives in Toronto with his gay roommate, Wallace; though Scott is heterosexual. The book opens up with Scott's band mates, Stephen Stills, the band's lead singer and "talent", and Kim Pine, the drummer, lecturing Scott about his relationship with a 17 year old Chinese girl, Knives Chau. From there on, the book centers around Scott's awkward relationship with Knives, while he also tries to form a relationship with the new girl in town, Ramona V. Flowers, who's been appearing in Scott's dreams.
Writing
What I really liked about the book is the pacing and the characters. Things never seem to go by that fast, or move too slow, even if the story itself skips time. In fact, thanks to the O'Malley's sense of humor, there will be parts when you think it's about to get uninteresting, and there will suddenly be "24 HRS LATER" in big bold text; it's a break from the nice artwork, but it certainly grabs your attention for the better. In addition to reader humor, there's also quite a bit of game and music related references too for you nerds looking to get on some trivial jokes; I know I had a few laughs.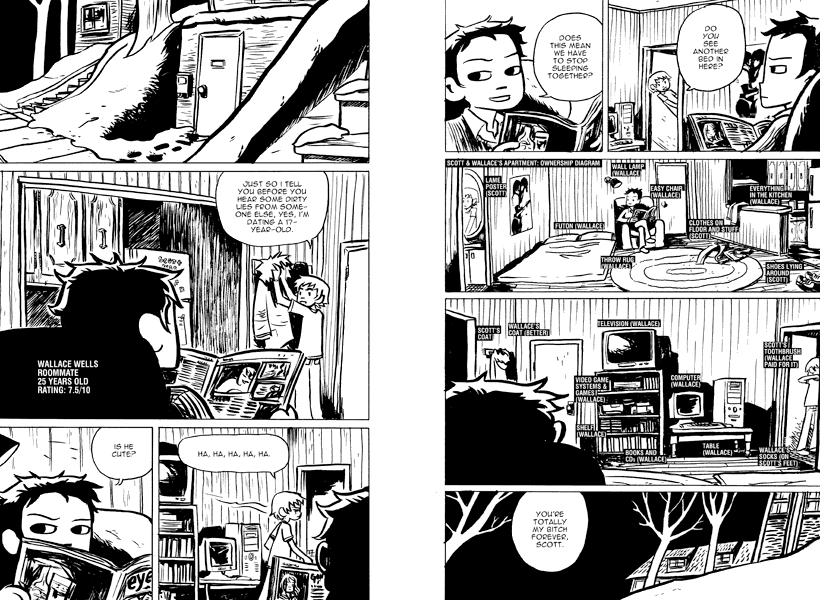 With the characters, though, I found that while some of the situations may seem a bit far fetched, the characters are still believable and relatable; and I think most readers will be able to find a character or characters that they'll identify with. The only gripe I have about the writing comes at the end, with the whole "evil ex-boyfriends" story, because it honestly comes out of no where (even if there are hints a few times in the book). Instead of being a calm, but humorous look at people, it suddenly turns into a
Street Fighter
-esque brawl, and I found the lack of transition into that to seem a bit awkward.
Artwork
Other than the characters, to me, the most appealing aspect of the book is definitely Bryan Lee O'Malley's artwork; even if it takes some getting used to. I say that because while
Scott Pilgrim
is promoted as a comic book, and it is one, I can't argue that, it has the design of a manga in terms of being black and white, and having the same dimensions as a typical manga. The main differences being, it's obviously not Japanese, as O'Malley is Canadian, and the book reads from left to right, with it's original language being English.
None the less, the black and white art style works really well in terms of its design. The minimalist style creates some very emotive characters, even without the use of added text or emotional signals like giant pulsating veins and sweat drops, which you normally would find in manga... which this isn't. And while the black and white, minimalism works for the book as a whole, there were a few times where I wish it was in color only because I couldn't tell some characters apart at first; but that's just the nature of the series, and not really something I could argue with at this point.
Overall
For what was pretty much an impulse buy, based on some word of mouth, I can say I'm pretty pleased with the first volume of
Scott Pilgrim
, and I certainly look forward to reading the rest of the series. It's definitely a nice middle ground between manga and typical graphic novels, though the art style is more indie in nature than most stuff in the mainstream market. It's definitely not a book for everyone, but if your open to new, informal, writing and/or art styles, I definitely recommend that you get yourself into this series; I only wish I got into it sooner!
Overall Score: 9/10
For more on
Scott Pilgrim
visit:
scottpilgrim.com
For more on Bryan Lee O'Malley visit:
radiomaru.com