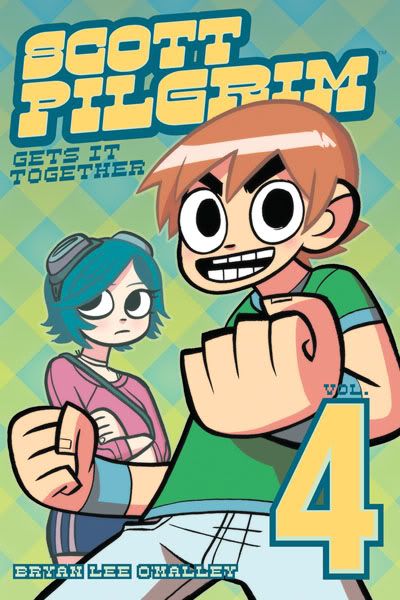 Scott Pilgrim returns for his fourth book, but unlike the previous three books,
Scott Pilgrim Gets It Together
doesn't continue right after the events of the previous book, there's a month or so gap. However there's a short story called
Free Scott Pilgrim
which takes place between volumes three and four; details below. This forth volume, published by Oni Press, was originally released in 2007 (see, I'm catching up).
Note
: For
Scott Pilgrim
completists, F
ree Scott Pilgrim
can be downloaded from
OniPress.com
[this is a direct link to a .cbr file] or you can browse it page by page via the
ScottPilgrim.com
Previews section. It's not required reading, just something fun if you crave more of the series. Oh, and yes it's free, legally.
Story
As said above,
Scott Pilgrim Gets It Together
doesn't continue right after
The Infinite Sadness
, instead giving the characters a chance to grow a little off page. None the less, the focus of this book is back on Scott Pilgrim himself, which was something the previous book didn't do and I had a few words regarding that. Scott's old friend and former bandmate, Lisa (introduced in the beginning of volume 2, in the opening with 16 year old Scott), is back in town and is trying to catch up with Scott. However, Ramona seems to get the feeling that there's more between them than just being friends and it causes that typical drama.
Overall, the story is a good one, and focus being on Scott again made this book feel a lot more enjoyable than last time, and there's much more character development this time around than ther has been in the three previous books. Not to mention,
Gets It Together
is the longest book in the series so far, so that makes it more to enjoy.
Writing
While this is volume contains the most drama from the series so far, I have to say it's all been the one that's made me laugh the most, most due to Bryan Lee O'Malley's amusing artwork paired with hilariously subtle one-liners. There's just something about Scott's awkwardness that make him a very appealing character, and one that becomes even more believable as the series goes on.
As usual, there's a lot more gaming references this time around, but no so much as specific references, but more so in terms of gaming in general. Many times through out the book meters will appear over Scott, whether it be hunger, money, and yes, even pee. Not to mention, Scott gains a lot of EXP this time around, and even levels up! (I hope that's not a spoiler...)
Artwork
I was actually pleasantly surprised when I opened up this volume, as it includes the first major change to the series since it's started. I'm talking about
c
o
l
o
r
, something notably absent from the manga-inspired series (other than the cover art of course). Sure, the color section only lasts for the first chapter of the book, but it was a welcome addition and I found it interesting to see how O'Malley's traditionally black and white characters translated onto full color pages.
As for the rest of the book, it's back to the
Scott Pilgrim
you've been used to. I noticed a lot more solid black throughout the book, but that's more so because there's a focus on Scott's dreams and entering subspace; otherwise there's nothing majorly different from what you've been used to. As with the last volume though, there's once again guest art at the end of the book, but nothing I found to be overly appealing. The back cover however features a pixel art scene of the cast outside of Sneaky Dee's and I thought that was pretty cool.
Overall
Despite bringing drama into the series,
Scott Pilgrim Gets It Together
is definitely my favorite book of the series so far. After the mild disappointment that was
The Infinite Sadness
, I was very pleased to not only have the story focus on my favorite characters, but also have them develop a lot for the first time since the first book. And while O'Malley's great artwork hasn't changed much this time around, the inclusion of a color chapter was nice to see, and is something I'd like included in the next installments.
Overall Score: 9.4/10
For more on
Scott Pilgrim
visit:
scottpilgrim.com
For more on Bryan Lee O'Malley visit:
radiomaru.com