BlazBlue: Calamity Trigger
is the best fighter on the Xbox 360. Okay, so that's not really a claim I can honestly make considering I haven't gone in depth with many of them, and the selection is quite varied. Hell, even personal taste comes into play. But it did get your attention didn't it?
None the less,
BlazBlue: Calamity Trigge
r is Arc System Works' first foray in the fight genre for next-gen consoles, and should be considered as the spiritual successor to the popular
Guilty Gear
series of fighting games.
Story
If you're like me, you expect a very sparse storyline with your fighters. Yet, quite to my surprise, with
BlazBlue
that is just not the case. All 12 characters have very interesting stories to be told through their individual story campaigns. The setting of Kagutsuchi is an intriguing one, and the
BlazBlue
world is very fleshed out as whole. One problem though. The story mode is played out through a series of character portraits accompanied by text. Those familiar with any older RPGs should know what I'm talking about. It's a little slowly paced, and for those of us without HDTVs, the letters are a bit too small.
Through each characters stories, you have the ability to make choices and see a different part of the story. There are a few branching paths for each character, and all of the ones I've played so far are very interesting. Yet, no matter how interesting they are, it's a bit of a pain to have to go through each multiple times to see the persons entire story. Though, be forewarned, despite all of the flaws with the games storytelling method, I think the story is interesting enough to motivate you to play around the minor quirks. I definitely recommend looking into the story with this one, don't ignore it like you may with other fighters. If nothing else, think of it as a bonus aside from all the standard modes.
Gameplay
Despite the story elements,
BlazBlue
is first and foremost a 2D fighter. As a spiritual successor to
Guilty Gear
, a lot of people will know exactly what to expect. Yet for the rest of you, let me explain a bit.
BlazBlue
is a single planed, extremely fast paced, 2D fighter. You have your super moves, one hit finishers, and much much more. But before I get to all that, I'd like to touch upon perhaps the biggest innovation in
BlazBlue
. The Drive button.
The drive button is essentially the special button (Think
Super Smash Bros.
). One press and you're doing a character specific special move. This is touted as "a easy way to do something cool", and not only is that true, but the one button special adds even more intensity to the already mind blowing intense battles. Being able to fly across the screen, or control the wind, or even shoot swords with just the press of a button really changes things. It both makes the game more accessible to newbies, and adds depth for veterans. If you're new you start off being able to do at least 1 special. If you have experience, you have a quickly accessible move that has more flexibility and freedom then it would if you had to input a button sequence.
But besides the drive attacks,
BlazBlue
stays fairly close to
Guilty Gear
. There are Distortion attacks, which are basically super attacks. They take up various amounts of your heat bar (which I will get to later), require a button sequence to perform, and do large amounts of damage.
You also have the option of doing one button air recoveries, which stop you from being helpless while airborne, barrier defense, which depletes your barrier meter yet completely blocks damage, barrier bursts, which push your opponent from you and can break combos, yet deplete your entire barrier meter, lowering your defense. You also have what is referred to as the Guard Libra. This is a meter in the middle that moves to the side while you defend. If it hits your side, you lose your barrier, and are stunned. Another feature to keep you and your opponents active is the penalty you get when you don't attack for a certain amount of time. The opponents damage will do a bit more.
To keep you from spamming these specials, you have your heat bar. The heat bar depletes with special actions (as mentioned above) and is replenished by attacking your opponent, or gradually if your hp is under 20%. Speaking of under 20%. If it's the last round of the game in your favor, and your opponent has under 20% left, you are able to use your Astral Finish. This is a flashy one hit move, and you really wont see many of these, but they're still worth mentioning.
OK, now I haven't even scratched the tip of the iceberg here, and I bet it already sounds overwhelming. But don't worry, it all comes naturally after a few rounds. If it doesn't you can hone your skills in training, or do a few playthroughs of Arcade Mode, just to get the hang of things. Maybe pop in story mode on those slow days, switch it up with a score attack every now and then. The game is packed with different modes. But the most important one of all, is the Network mode. [See below]
Finally in the gameplay department, I'd like to talk about that extremely comprehensive training mode. You can pretty much toggle everything on and off. Display command, regenerating health, damage, set heath at certain points, record actions for the computer, play against AI, set repeated commands to the CPU, toggle special character power-ups to last forever, all of it. It's all you could ask for, and more.
Online
You can play online with your friends, join 6 player lobbies in player matches, battle it out in ranked matches to move up in the rankings, or just go around and spectate matches. You gain experience based on performance in fights, and level up/rank up accordingly. You won't unlock anything new by leveling up, but it is nice to be able to quickly tell a players experience with a glance.
Your records are kept on a very easy to access D-Card. You can look at yours, or your opponents at just about any time in the lobbies. It keeps track of rank, your main character, your secondary, your wins and losses in ranked and player, and a few other stats like that. It's a nice little thing to have so you know what to expect from the other players.
Another big part of the online is the ability to save and upload your match replays. You can save any online match's replay, or go to the leader board and pick up some matches, then watch them in the replay theater. You can go frame by frame, slow, fast, you name it. It's a very nice, very welcomed feature, and coupled with the extremely comprehensive (extremely comprehensive, it must be said twice) training mode, it makes for both good entertainment, and a good way to improve your game.
Graphics
The game is beautiful. Downright gorgeous. The sprites are big and clean, the backgrounds are just plain breathtaking on certain stages, and the character designs are all crazy, and very interesting. All the characters personalities show through their art, and even can be seen in their battle animations. Which reminds me, the animations, they're amazing too. I simply cannot express to you how gorgeous the entire game is. Even the menus are a delight. Something I've neglected to mention thus far, is the gallery. By accomplishing certain tasks, you unlock art and videos, and it's all stunning. This is high resolution, breathtaking stuff. All of it is worth checking out, and it may in fact turn out to be your driving force for playing the game. It's one of mine right now.
To finish off the graphics section, I thought I would tell you, I have always been a big fan of 2D games. It's what I grew up on. So if 3D is more your thing, then you may be a little put off at first, but I beg you to not expect realism, and to love the anime inspired, beautiful artwork.
Sound
Sound is another area where
BlazBlue
excels. The soundtrack which comes with the Limited Edition is more than worthy of being a regular in my cars CD player, or getting a playthrough on iTunes every once in a while. It's mostly rock, and it does an amazing job of giving the furiously fast and action packed battles a little more umph.
The voice acting is decent overall, and the option to choose the Japanese tracks is very welcomed. On top of that, something that really struck me as impressive was the ability to control settings for each individual character. Hate so and so's voice? Well you can turn it off! This is something I would have loved to have in many, many other games. I'm glad to see it show up here.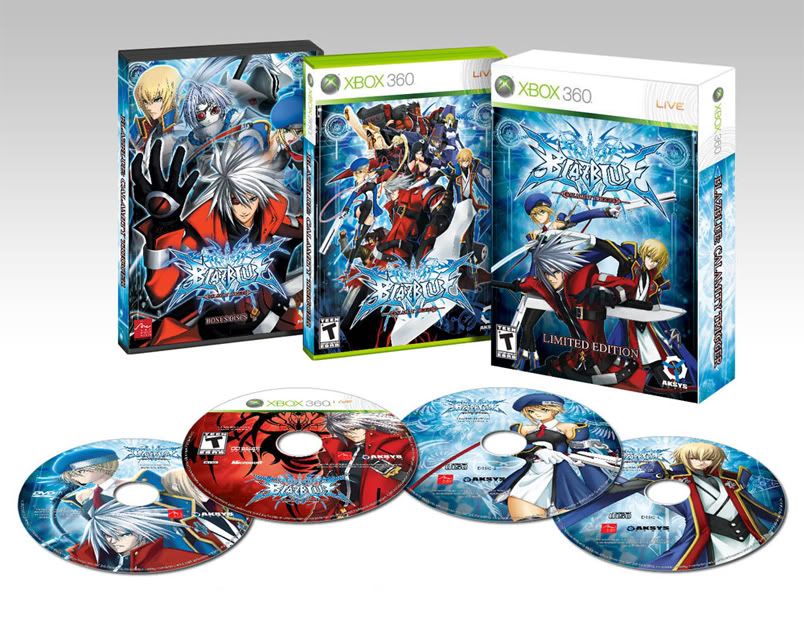 Limited Edition Material
This portion is over the Limited Edition material, so if you're not into looking for a LE copy, then go ahead and skip this. Basically, this version of
BlazBlue
comes in a large cardboard box with two DVD cases. One with
BlazBlue
(and its full color instruction booklet), and another with 2 CDs and a DVD (on PS3 it's a Blu-ray). The case itself has a nice cover, and the CDs and DVD all have nice art on them. The CDs have, as far as I can tell, all of the game's soundtrack, and a few remixes. The DVD shows combos and strategies for each character, as well as some exhibition matches. It's a great way to introduce you to more advanced techniques. I'd really recommend finding the LE version of the game, especially since it comes at the same price. The CDs are kickass, and the DVD is a great help.
Overall
BlazBlue: Calamity Trigger
is as of now, my favorite Xbox 360 game. Before now I was never serious in any fighters, but
BlazBlue
is about to change that. The game is just so full of content, depth, and personality. The game is a prime example of 2D fighters at their best, and SHOULD NOT be missed by any fighting game fans (whether you own a 360 or PS3).
Overall Score: 9.5/10
A
Seal of Approval
. You saw this coming didn't you? I'm awarding
BlazBlue
the second
VFH Seal of Approval
to go to a video game. Believe me, it's well deserved. The sheer amount of content itself is astounding. Wrapping all that up in the best 2D fighting system around, sprinkled with lovable characters, and you have a recipe for win.