Let's face it, I'm a pretty big fan and/or supporter of
Scott Pilgrim
and its creator,
Bryan Lee O'Malley
. So imagine my excitement when I saw that
Scott Pilgrim - Full Color Odds & Ends 2008
was actually available for purchase on
Oni Press' online shop
(the book, and
Scott Pilgrim
shirts for that matter, are rarely in stock).
Although the book is the size of a standard single issue comic-book (instead of the series' usual manga size), and is made up of mostly comics, at heart
Odds & Ends
is really an art book. The issue, which was released in 2008 collects assorted
Scott Pilgrim
short stories from 2006-07 which are not in the actual books. These include
Free Scott Pilgrim
(but now in glorious full color), a four page
Wonderful World of Kim Pine
color comic, as well as a couple of comic strips (both color and black and white).
The book also includes some sketch and marker pieces from Bryan Lee O'Malley, book advertisements (including this awesome one that spoofs the
Super Mario Bros. 3
artwork), and neat,
Katamari
homage done by Dean Trippe and Jemma Salume which graces the back cover.
Writing
What's to say here? The thing with most of the book, is that it's all already available online, and
legally
. So, when I got the book, at least when it came to the comics part of it, it was all stuff I had previously read. However, already being a fan of O'Malley's characters and writing, I can tell you that the shorts you find in
Odds & Ends
are just as enjoyable as what you get in the books... just abridged.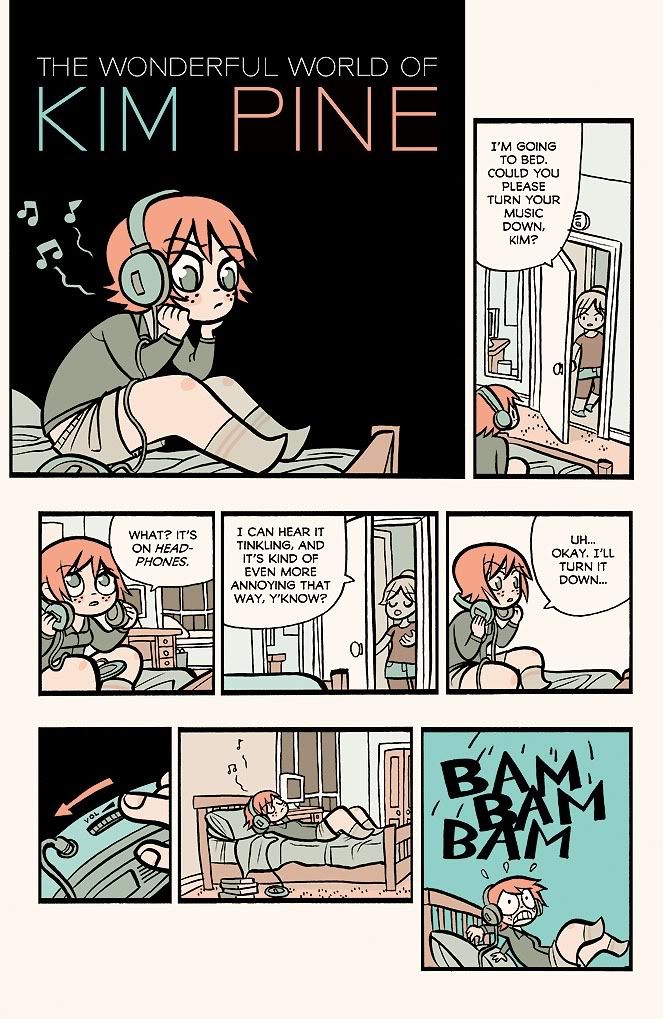 Artwork
The the first I did when I got the book was open up the original, black and white,
Free Scott Pilgrim
and compared it to
Odds & Ends
' new full color version, made possible by Dean Trippe. The difference is pretty awesome, as Trippe added a lot of light and shade to characters and it just makes them pop so much more. Also, in the original some backgrounds were just photograph to due time constraints, but with this collection they're all drawn now, which was a nice change.
As for the other new work, being the pencil and marker pin-ups, they're really nice pieces. Because the books are primary two-tone black and white, it's a nice chance to see how O'Malley handles other traditional mediums and the use of color on his characters.
Overall
All in all,
Odds & Ends 2008
is certainly a nice collection of Bryan Lee O'Malley's work. However, it's probably hard to convince a casual fan of the series to spend $5 plus shipping on a 32-page book of work they can mostly already find online legally and free. Personally, since I happen to like the series and the artwork a lot,
Odds & Ends
makes a nice collector's item and I'm glad I bought it. But really, it's a book for the fans, and no one else.
Overall Score: 8/10
You can only buy
Scott Pilgrim - Full Color Odds & Ends 2008
from
Oni Press' online shop
.