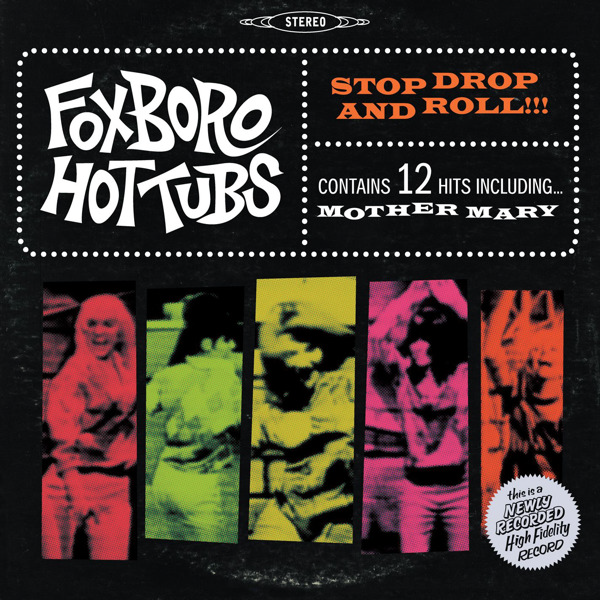 With the upcoming release of Green Day's latest album,
21st Century Breakdown
, I thought I should take the time to tell you about a Green Day project you may missed out on, for one reason or another.
This is the first review under the
Hidden Gems
banner, which as you may remember is a way for us to review older, lesser known titles, while still making them relevant. Interestingly enough, despite being a Green Day side project (though not originally revealed to be the band, much like their previous side project,
The Network
), Foxboro Hot Tubs didn't really generate that much buzz when the album released almost one year ago. And it's shame too, because in my opinion,
Stop Drop and Roll!!!
is a much more appealing album then 2004's
American Idiot
, which turned Green Day into a political band instead of just having fun.
Which brings me into my first point about the album; as a long time fan of Green Day, I was personally disappointed with
American Idiot
's overly political tone, which greatly departed from Green Day's pop-punk sound. Oh, and they started wearing eye shadow too, what's with that? None the less, Foxboro Hot Tubs' sound is different than both Green Day's pop-punk sound and their broody political work, instead opting for a very garage rock sound, making them sound more like a late 1950s band.
That's what I really like about the album though, is that it offers a side of the band we've never really heard before; and instead of changing the sound again and calling it Green Day, they took the smart decision and made it into something else completely. With that change though, comes the adaptation of that 1950s garage rock style, which not only affects the sound of the album but the physical release as well. The album itself comes in a CD sized cardboard sleeve, with another paper sleeve inside, giving it the feel of a tiny vinyl record; the album itself is even printed to look like a vinyl record, though doesn't go the extra step of having black plastic (like
Weep's album
). Sure, it may be novelty, but the authenticity is appreciated.
In terms of sound,
Stop Drop and Roll!!!
is full of intentionally low-quality, but catchy tunes, and really sounds great when listened to as a whole. But if I were to pick and choose, I definitely suggest you check out the titular track, "Stop Drop and Roll!!!", "Mother Mary", "Sally", "The Pedestrian", and "27th Ave Shuffle", but the rest of the album is still good. And really, the only thing that would stop me from believing that this was actually a late Fifties garage band, other than my preexisting knowledge of Green Day and Billie Joe Armstrong's voice, is some of the lyrics and choice language. Otherwise the sound of the album overall is pretty authentic, and that's just a cool factor.
Overall,
Stop Drop and Roll!!!
is a great start if Green Day ever plans to continue with the Foxboro Hot Tubs project, though that seems unlikely at this point, with a full tour planned to promote
21st Century Breakdown
. But as stated before, if you're like me, and were a little disappointed by Green Day's change in tone, Foxboro Hot Tubs offers the feeling that the band you used to like still exists somewhere, and that's always nice to know.
Overall Score: 9/10