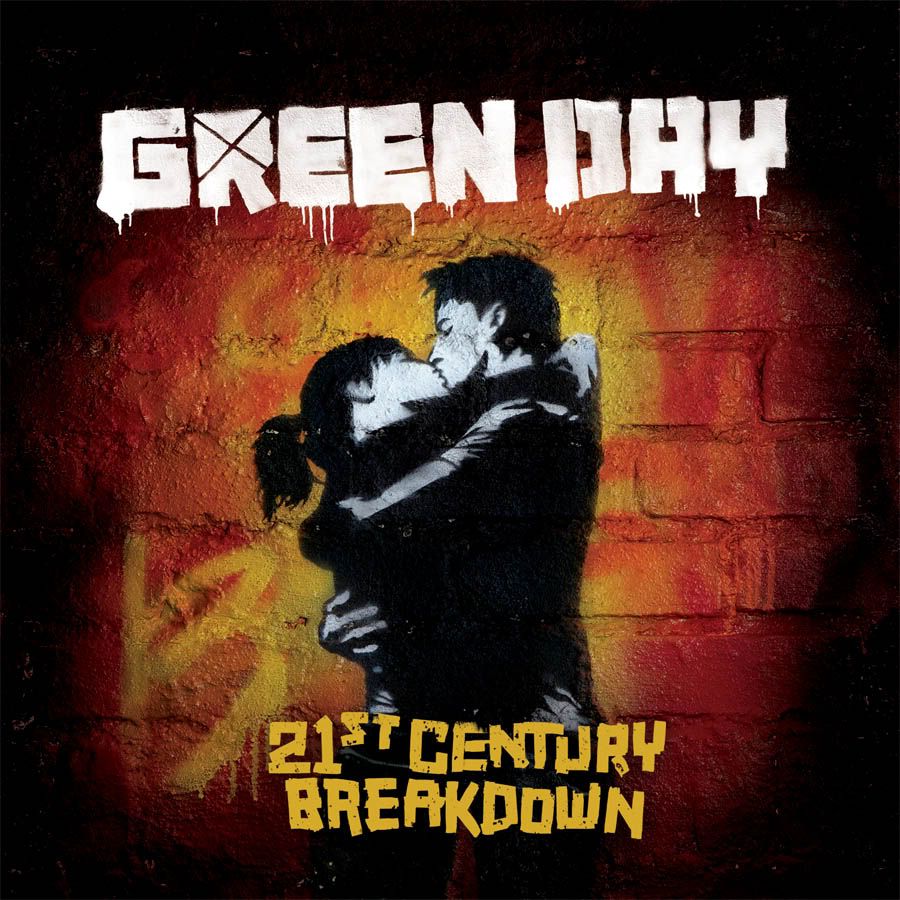 While I may have covered
Foxboro Hot Tubs
' debut (and probably only) album yesterday, today is all about Green Day's eighth studio album,
21st Century Breakdown
; the follow up to 2004's
American Idiot
, which gained the band some critical acclaim, but I can't say I was a big fan of that album. Does Green Day continue to alienate old fans, or does this new album have something for everyone?
21st Century Breakdown
continues the, dare I say it, "rock opera" style of
American Idiot
, though this time around the album is split into three acts which follows a story of young couple, Christian and Gloria. Because of this, I thought it would be a good idea to take a look at each act individually.
Act I: Heroes & Cons
This first act actually starts off with the second track, the first track being "Song of the Century", which isn't much of a song as much as it's just Billie Joe Armstrong on a low-quality mic for fifty seconds. However, when the act starts, it's start's off big with the titular track, "21st Century Breakdown", which is one of the finest tracks I've heard from the band in a long time. Yes, the political overtone is still there, but in terms of sound it is one of the band's more "epic" tracks, and a great opener. Next though, is the first single from the album, "Know Your Enemy", which while not a terrible track, is a really repetitive track and I think was a misleading way to promote the album. "¡Viva La Gloria!" brings Green Day into piano rock territory, with violins to boot, which seems weird at first, but the track soon turns into classic Green Day style pop-punk, and that's nice to hear; the same can be said for the following track, "Before The Lobotomy", which starts off slow, but again turns into a classic Green Day sound and is one of my favorite tracks of the album.
The end of the act starts with "Christian's Inferno," which sounded to me like a mix of "Castaway" from
Warning:
and "Letterbomb" off of
American Idiot
; showing there is a balance of new and old Green Day here. Though, the closer, "Last Night On Earth," brings back the piano, and sounds a lot like The Beatles' "Free as a Bird," at least in its chorus; not a bad song though, not at all actually, just a very different type of song from the band.
Act II: Charlatans & Saints
As the new act arrives, the tone left from "Last Night On Earth", is completely turned around as Act II's first track, "East Jesus Nowhere," get's into your face and eardrums; but it too sounds like I've heard it elsewhere ... in five other Green Day songs. And the next song, "Peacemaker", sounds very much like a fast version of "Misery" from
Warning:
. But not everything sounds like I've heard it before, "Last of the American Girls" and "Murder City" sound like old Green Day, but in a completely new light; and they're certainly the highlights of this act if you're looking for that pop-punk sound. Closing off are "¿Viva La Gloria? (Little Girl)", which yet another mix of piano rock and pop-punk, and "Restless Heart Syndrome" which is just straight up piano, and sounds very Beatle-esque like the previous act close r... which oddly enough, sounds great again; I'm perplexed at how that works.
Act III: Horseshoes & Handgrenades
Act III's opening track, same as it's title, once again drops the piano in favor of in your face punk, and certainly will wake you up after the second act's closer. "The Static Age" continues with the pop-punk sound, but the following track, and probably my least favorite on the album, "21 Guns", slows down the pace of the act; and yet it's the longest song on the album, running at 5:21. "American Eulogy," the next track, is actually split in half. The first half, "Mass Hysteria", sounds familiar, but I can't put my finger on it; and "Modern World" just sounds like it came off
Insomniac
, so I guess that's neat(?). The album closer, "See The Light", uses the same piano notes as "21st Century Breakdown", but soon goes into pop-punk anthem mode, and then dramatically ends with the same piano notes; a fitting end.
Final Thoughts
All in all,
21st Century Breakdown
is a a great step in the right direction for Green Day. Yes, it's still in similar tone to
American Idiot
, but there's enough evolution here, as well as a nice return to the band's older pop-punk style, for hardcore and casual fan alike to find a part of the album they enjoy. The thing that surprised me the most though was how much I liked the tracks with piano, because on first listen they seemed really out of place on a Green Day album, but repeated listening made them much more appealing. Now I'm just curious to see where they go from here.
Overall Score: 9.3/10
Listen to the album on
MySpace