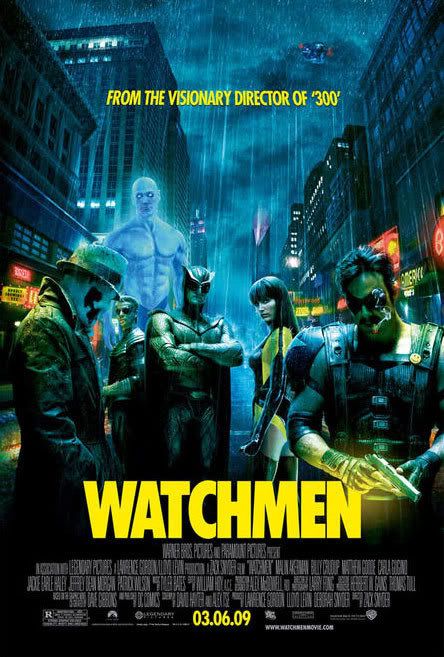 Sure, if you've read the book all this talk about
Watchmen
must be great. But what about those who haven't read the book? We here at VFH like to please audiences of all kinds, so here it is:
Watchmen:
A Non-reader's Perspective!
Let me start off by saying that I was somewhat disappointed in
Watchmen
. Not to say that the movie was bad, far from it, but it just felt as if the film was missing something. At times it just got boring, the characters seemed to keep talking and talking, and in the end it felt like I just listened to a whole lot of nothing. There's also parts where I really think that they could have gone in depth a bit more with the characters past. There was one scene that really sticks out to me, I won't say to much. But you were suppose to feel horrible that something like this would happen, but in the end you felt no remorse whatsoever. I can only pray that the book showed us more of the plot then this movie did.
On the other hand, there were a lot of things I liked about the movie. I liked how there were no "super heroes" nor "super villains." Everyone had their own difficulties that they dealt with however they saw fit. Another thing that I loved about the movie were the fight scenes. They kept you wanting more and more, but unfortunately, you don't get much more. The movie had twice as much talking as there was fighting, which was an extreme disappointment.
Another thing that I rather enjoyed was the music in the movie. The funny thing was that the music is the farthest thing from what you would expect from a movie like this. In the end I can't explain why the music seemed to fit the movie so well, but something about it just felt
right. Of course, music in the film didn't come around often enough. It was also overthrown with an overdose of talking, and talking, and talking.
And of course, the visuals in
Watchmen
were breathtaking. The special effects were definitely the high point of the three hour's. If there is one thing that you will love about this movie, it will be the visuals that the film displays.
In the end, I found the best movie to relate
Watchmen
to was
Lord of the Rings.
Or in other words: talk, talk, talk, sweet battle, talk, talk, bored. At the same time, I enjoyed
Watchmen
MUCH more then
Lord of the Rings
. Overall, if you haven't read the book, I'd say wait till this one comes out on DVD and judge it from there.
For a reader's view, see VFH's official
Watchmen

review