ZEN Studios and Publisher X have released the next in their pinball series, with ZEN Pinball: Inferno.
This iPhone game features the same gameplay you are used to with the previous ZEN pinball game, but it features a new board, which is themed on a concert. The board is amped up a bit with some spinning searchlights and a video billboard that shows some people singing and playing to make the environment more dynamic and interesting than the previous board.
To go along with this theme, the board also features a cool rock song to keep you entertained while you play, although if you choose, you can turn off the music and/or sound effects.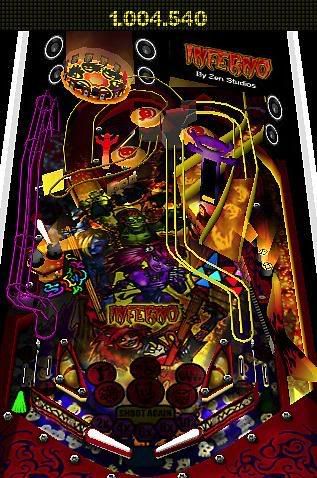 Like the previous game, the sound effects are spot on and very realistic, as are the ball physics and bumper thumps. Overall though, it seems that the game is a bit smoother than the Roller Coaster board.
The board itself features some more pinball-familiar lights, which are very vibrant, mainly because the board is darker. Also, the board is much less cluttered than in the roller coaster board, which is nice. There are still lots of little mechanisms you can trip and modes you can get into to, but it seems cleaner.
What Inferno does add, is a multiplayer mode, which the roller coaster board lacked. This multiplayer mode allows for 2-4 players to take turns playing, which is a nice addition, but isn't anything special. Another change worth mentioning is that on the roller coaster board, you had 5 balls, but in Inferno, you only have 3, which is a bit interesting and can lead to shorter plays and smaller high scores, but I'm sure you can handle it.
For another great pinball board, head on over to iTunes and dish out $4.99. If you liked the first one, you'll enjoy this one as well.
Overall Score - 7.5/10
You can buy ZEN Pinball: Inferno on
iTunes
.
Posted in collaboration with
GamersPlatform
.