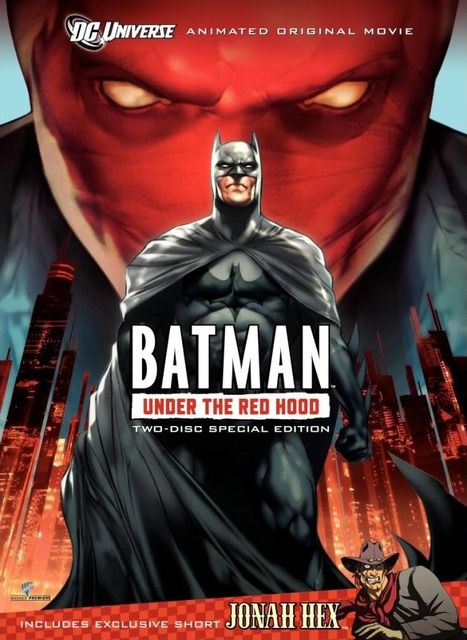 While I'm in the review writing mood, I may as well get to writing about something that came out at the end of July, the (sort of) latest DC Universe direct-to-DVD animated film,
Batman: Under the Red Hood
. I say sort of, because
Superman/Batman: Apocalypse
released just two weeks ago, and while I bought it day 1, I haven't had the chance to watch it yet. Here's to catching up!
Batman: Under the Red Hood
is the latest film in the
DC Universe
series since Februrary's
Justice League: Crisis on Two Earths
, which while I liked at the time, doesn't really hold up with repeated viewings. And unlike
Crisis on Two Earths
,
Under the Red Hood
returns to adapting an actual DC Comics story arc, in this case Judd Winick's "Under the Hood," making it the first full length animated adaptation for a Batman comic, as opposed to
Gotham Knight
, which was just separate stories that very loosely filled the gap between
Batman Begins
and
The Dark Knight
.
The Movie
The films centers around the death of Jason Todd, the second Robin, and his subsequent rebirth and rise to criminal power as the new Red Hood (a mantle once held by the infamous Joker, the man responsible for Jason Todd's death) and how Batman and company must deal with him.
I never read the "Under the Hood" stories because when I was younger,
Batman: A Death in the Family
was one of my favorite collected comic books; and when I learned that they basically retconned the events of those books to bring back an already dis-likable character, it honestly just pissed me off. So I can't really speak of this as a good adaptation, but I still think the process of bring back Jason Todd was a terrible decision and the movie still hasn't changed my opinion at all. Call me bitter, but it's just one of those thing I can't let down, and I only bought the film as a collector in the slightest sense.
However, stylistically, the film was more appealing than some of the more recent DCU films, and I found most of the voicework to be believable and close to the characters' personalities. It's not that I hated the film as a film, but the deep ties it has still bother me to say much more.
Jonah Hex
Speaking of mediocre films that came out in the summer, Jonah Hex. Now, thankfully this 12 minute short has no connection to that other
Jonah Hex
feature film, lead character aside of course. Presented in a traditional western fashion, the animation and character designs here are neat and far more mature than the lead title on this disc, and you could probably even argue that Thomas Jane makes a better Jonah Hex than Josh Brolin, but I refuse to take the time to find out. Plus, it's got Sarah Conner, that's kind of cool right?...
Extras
This section is slowly appearing to be a sign of the times, as the DVD sets slowly lose material to the Blu-ray editions of these films. And while I do have a Blu-ray player, I still prefer the DVD sets because all the packaging matches when placed on my bookshelf, and generally these films aren't that stylistically great that I need to see them in true HD.
What do I mean by this? For one, this is the first '2-disc special edition'
DC Universe
film to not include a Digital Copy (since the introduction of that feature at least), and the discs don't even have colored labels any more (I noticed this first on the new
Superman/Batman
, so maybe I'm wrong). And aside from that, there's just a brief look at the history of the Robin character, but more so Jason Todd as the likes of Stephanie Brown and Damian Wayne aren't mentioned. Plus there's a
Batman: The Animated Series
2-parter, but, I could do without things I've already seen.
Final Thoughts
Overall,
Batman: Under the Red Hood
isn't a terrible film, but it doesn't blow me away either. It works better as an overall story then the previous Batman-centric DCU release,
Gotham Knight
, but the reasons for that are pretty obvious. However, I have deeper annoyances with this film than the actual film itself, which may have been one of the major factors preventing me from reviewing this, and not just my busy schedule. And when it comes to the extras, DC is clearly trying to make it more apparent that the DVD releases are becoming more and more inferior, which sucks.
Overall Score: 7/10