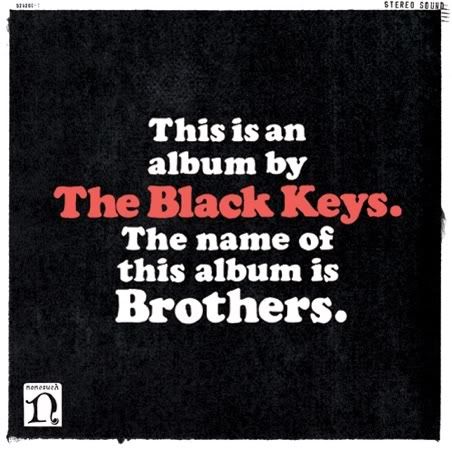 Probably my most favorite band in recent years, the blues rock duo, The Black Keys, have released information regarding their upcoming sixth album,
Brothers
, set for release on
May 18th
. The release comes just a year after both their rap/rock project
Blakroc
released (which I've still yet to listen to) and singer, Dan Auerbach's solo album,
Keep It Hid
(which I've heard most of and enjoyed), released; which just shows how busy the duo have been. The track list for
Brothers
follows:
1. Everlasting Light
2. Next Girl
3. Tighten Up
4.
Howlin
' for You
5. She's Long Gone
6. Black Mud
7. The Only One
8. Too Afraid to Love You
9. Ten Cent Pistol
10. Sinister Kid
11. The Go Getter
12. I'm Not the One
13. Unknown Brother
14. Never Gonna Give You Up
15. These Days
At fifteen tracks this is the band's longest album yet, track-wise (they could be short tracks, after all). This is definitely one I'm looking forward to, especially after re-listening to their five previous album lately, as well as listening to The Black Keys Radio on Pandora for more bluesy goodness.
via
Pitchfork