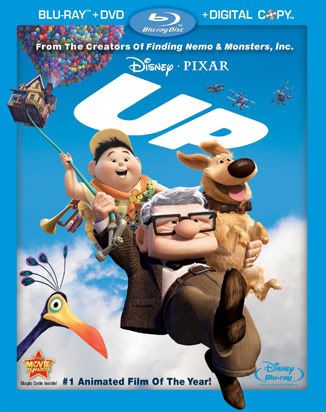 There's no denying it, I really enjoyed Disney/Pixar's latest film,
UP
, surprisingly more so than
WALL-E
(but only slightly), heck, I even gave it a VFH Seal of Approval. So of course, like
WALL-E
, I had to get it on Blu-ray to appreciate the film in glorious HD from the comfort of my own home.
Now, since the
WALL-E

Blu-ray release
, Disney has taken a different approach to Blu-ray releases. Instead of the standard 2-Disc set, you have four... but there's a catch. There are two Blu-ray discs, the movie and the extras, then you have a DVD version of the film, and another disc that's used to install the Digital Copy. So really, it's two discs of real content, and 2 more of the same content. But I'll get to that later...
Blu-ray Disc 1
As assumed the main feature of this disc is obviously the actual film,
UP
, which in my opinion is certainly one of the best films of this past year, animated or otherwise, and by far Pixar's most mature film to date. In fact, I still can't watch the opening moments of the film (or much of the rest) without getting teared up a bit. But I won't repeat myself, if you want to read the rest of my thoughts of the film,
read the original review
. Most notable about the film though, is that unlike the theatrical release, this Blu-ray version is not in 3D, which doesn't really bother me since I saw it in 2D to begin with. In fact, even in the special features and commentary, the aspect of 3D isn't even brought up, showing just unnecessary the feature was for the film. But it is something to take not of for those looking to see this film in 3D again, or for the first time, because you can't.
But there's more to the disc. My personal favorite is Cine-Explore, which is a commentary track with Pete Docter and Bob Peterson that also features pop-up images as you watch the film; it's really interesting commentary and the images just enhance that experience. You also have
Partly Cloudy
, the short that played before
UP
in theaters, and a video-release exclusive short,
Dug's Special Mission
. Sadly, unlike
WALL-E
, there's no picture-in-picture storyboard feature for these shorts, and you only have the one Cine-Explore commentary, instead of two commentaries like
WALL-E
had.
But what this does include is a really interesting 22-minute featurette of how the creative team actually went to South America and how they based the environments of the film on this trip, and there's another interesting video of the development of the film's villain Charles Muntz. Lastly are the BD-Live features, but once again, unlike
WALL-E
, the BD-Live features aren't really robust, instead acting like an information channel for Disney's other releases instead of a dedicated online hub for the film. I can't say I used the feature on
WALL-E
very much, but the lack of proper inclusion is strange.
Blu-ray Disc 2
The second disc of this Blu-ray set is somewhat of a mixed bag. The main aspect is this series of seven short documentaries which focus on the films assorted characters and locations, about 5-9 minutes each. These range from character inspirations, character designs, the way they move, the way they act, the way they sound, and more, it's all here, and it's all really interesting and insightful, especially if you're into that aspect of film and animation, like I am.
Also on the disc is a short documentary/storyboard of an alternate take on the film's opening segment. Which I'm glad was changed to what it is in the film because this alternate take doesn't have the same emotional impact. There's also a six-minute montage of the characters floating around, two trailers for the film, and an interactive game that has you naming states and countries, with a BD-Live leaderboard. The game is OK... if you're teaching your kids geography, but most people probably won't touch it. While the documentaries are insightful, I have to say I'm a bit disappointed with the rest of this disc, as it's just not as jam-packed like the last Pixar release,
WALL-E
.
DVD
I'll say this,
UP
is the first film I've ever owned on two formats, because it just never made sense to me. So the fact that Disney includes a DVD with this Blu-ray set (as well as all their other recent releases) just doesn't make much sense to me. This disc features everything that's on the first disc, except Cine-Explore, instead it's just audio commentary, and overall it's just not as nice looking. Even the menus are down-scaled for the medium, using cartoon cutouts of the house and balloons, instead of the expected 3D models. I can't really hold it against this set, because really, the inclusion of this disc is completely unnecessary, but the DVD quality is just ugly in comparison to the beautiful Blu-ray quality.
Digital Copy
The last disc of this set is the Digital Copy, which thankfully unlike the Warner Bros DVDs I've been getting recently, actually works on both PCs and Macs, giving you the option to download the movie via iTunes or Windows Media Player. However, I chose not to install the disc, since, much like the DVD in this set, I just don't need it, despite being included in the standard Blu-ray pricing. When
WALL-E
released last year, there was a version with a Digital Copy, and one without. I chose the one without it for a reason, and I just wish such an option was available this time around.
Overall
As a film,
UP
is fantastic; and now that it's available to buy, there's no reason you shouldn't have this in your film collection (unless you hate puppies). If you have the means to watch Blu-rays on an HDTV, then hands-down, this is the way to go. However, those that can only get the DVD version, I'm sorry, the film in itself is still spectacular, but the DVD quality just doesn't do
UP
and its luscious color and detail any justice. And while the inclusion of a DVD and Digital Copy version of the film is nice (considering it's at no extra cost), it also just feels like a waste of space, since the 'Four Disc Set' being advertised is really only two, being repeated. I could continue to be negative by saying this set may not be as feature-full as
WALL-E,
but it certainly still has enough interesting features to keep lovers of
UP
, Pixar, and film/animation very happy, and there's nothing wrong with that.
Overall Score: 9/10