After years of not purchasing anything live-action on disc (DVD or otherwise), one movie finally makes me take the leap away from animation... But in the end, was it worth it? Of course it was, this is
Star Trek
we're talking about here, the only movie all summer I managed to see multiple times!
Disc 1
Of course, if you're buying this on Blu-ray it's because you want to see the fantastic, eleventh
Star Trek
feature film. The film of which, centers around the story Romulan rogue, Nero, who rips a whole in time to destroy Spock's home planet, Vulcan, and in doing so resets the timeline before
The Original Series
would have started. A great new cast, a great director, and not only just one of the greatest pieces of Star Trek material, but a great film in general.For a better analysis of the film,
check out my original review
, this way I don't repeat myself.
The disc also features audio commentary by J.J. Abrams (Director), Damon Lindelof (Producer), Bryan Burk (Producer), and Alex Kurtzman and Roberto Orci (Co-Writers). The commentary is pretty interesting, though sometimes they tend to run off, not to mention a lot of what they have to say gets repeated in the second disc's numerous features. There's also BD-Live support, though as of now, there's just NASA news updates, despite the inside pamphlet's advertising of 'Exclusive Star Trek content for your Blu-ray player' which doesn't seem to be in the BD-Live section anywhere. Instead what you're left with is a lifeless, soundless menu, that features some news from NASA and a 'Picture of the Day'; nothing you'll come back for to say the least. But otherwise the film itself looks fantastic in HD and the sound is glorious; couldn't ask for anything more than that.
Disc 2
While the first disc may not seem to have much, the second is packed full of behind the scenes and documentary content. There are 10 main featurettes, and most of them have branching videos that can be access during play by an indicator, or watched separately on their own. First off is "To Boldly Go", which is a behind the scenes look at how the project got started, with interviews with Leonard Nimoy, J.J. Abrams, and the like, discussing how the film came to be. Then there's "Casting," "A New Vision," and "Starships," which all mainly focus on how
The Original Series
and his new film compare, and for a fan of both, such as myself, they're pretty insightful. "Aliens," "Planets," and "Props and Costumes" are the next group of videos, and while they too compare the old and new Trek, their main focus is how the physical effects of the film were made. And the last of these subject-divided behind the scenes featurettes are "Ben Burtt and the Sounds of
Star Trek
," which I actually found really helpful fora project I'm working on, and "Score," which obviously both focus on the sounds and music of the film.
There's still more though! One last short documentary, "Gene Roddenberry's Vision," which discusses how
Star Trek
, the TV show/franchise, was created and just how influential and important the series is to TV and science fiction. Then there's 9 deleted scene, yes, even the scenes with the awesome looking Klingons(!!!), all of which have commentary tracks from the same group as the film (minus Roberto Orci for whatever reason). Also included are the three theatrical trailers, and a Gag Reel, which I found really amusing, as it evoked a much similar feeling to when I watched bloopers from
The Original Series
, and it's just kind of charming to see these iconic roles come out of character and be human. While all of this is also on the DVD version there's only one Blu-ray exclusive extra (other than BD-Live): 3D ship-models of the U.S.S. Enterprise and the Narada, which allow you to view the ships from multiple angles and read up about the different parts. I could delve into how awesome each feature is here, but my fingers would collapse; just know there's multiple things to enjoy here, fans of the franchise or just new to the film.
Digital Copy
The Digital Copy works for PC or Mac, as it should be, and the installation is simple; but what make this different is that the disc also includes a demo of
Star Trek D-A-C
for Xbox 360 (oddly enough). But upon inserting he disc into the computer, you can find weblinks for PC or PSN demos of the game as well. Though, the PSN link doesn't do much on a PC besides show you Sony's game page. You'd actually have to go to the PS Store on your PS3 to that; which I did, two weeks ago, and I was unimpressed by the game. Point is, the trial being on this disc serves no purpose, since you can already get the demo otherwise. I just found it odd to see Xbox 360 labeling, on a Blu-ray set (though it is on the one DVD disc of the set, but still).
Final Thoughts
Considering how much I surprisingly (I had many doubt about recasting my favorite characters!) loved this film when it released over the summer, it seemed like a worthy addition to my movie collection, and even more worthy of the 'first live-action anything I've purchased' title. Not to mention, I was really eager to see the Klingons and other deleted scenes that I saw in the trailer but didn't make it into the final film. The extras just sweeten the deal, they're robust, informative, and it was great to see other original
Star Trek
cast members Walter Koenig and Nichelle Nichols talking alongside their new counterparts. I could go on and on here, but overall it's a great package whether you just got into the film or have been a long time
Trek
fan.
Overall Score: 9/10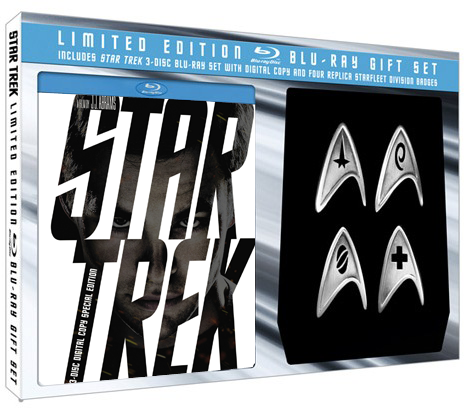 On a side note, those you with a Best Buy around may still be lucky enough to pick up their exclusive collector's set that includes four replica Starfleet badges from the film. The badges themselves are awesome looking, though I wouldn't dare touch them. But it should be noted that the package you see picture is all that hold them, there's no secondary, interior case which I was saddened to find out. Because, with items so nice, a double sized cardboard box with a thin plastic window doesn't do them justice. Also, the included Blu-ray package differs slightly from the stand-alone one in that it has a 2-front covers, instead of the expected information back-cover, which instead is on paper and stuck on. I put it in the box, but It's just something I thought should be noted for those who planned on getting this set and actually watching the movie.