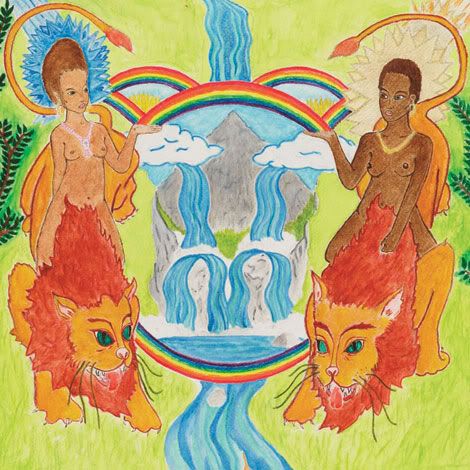 After four albums with TV On The Radio, the band's guitarist, Kyp Malone has gone and released his first solo album, under the name Rain Machine. Is Kyp able to make a great album without his usual band-mates around, or should this solo have been a no-go? (What, I can't make bad rhymes?)
Despite this not being an actual TV On The Radio release, to an extent it feels like one, since despite being the backing vocalist to lead singer Tunde Adebimpe on many TVotR tracks, Malone's voice is still very present. So even though it is his first solo record, I think it's more than fair to compare it to his previous work with TV On The Radio.
The album opener, "Intro", which leads into "Give Blood", from the start gives
Rain Machine
's sound something similar to TVotR, specifically their sound from 2002's
Desperate Youth, Blood Thirsty Babes
. I think it's because of this, "Give Blood" was one of more stand-out tracks on the album, at least for someone like myself who's just craving more from the band after last year's
Dear Science
.
The album really is hit or miss for me though. The following track, "New Last Name" has some decent part but doesn't really connect to me, but after that, there's "Smiling Black Faces" and "Driftwood Heart" which are both subtle but overly wonderful tracks, and certainly highlights of the album and what I think is Kyp Malone's own unique sound. But then there's tracks like "Hold You Holly", "Desperate Bitch" and "Love Won't Save You", which seem to last too long for their own good, and their emotion sounds a little forced.
As Rain Machine comes to a close it feels like it just drags, "Free Ride" starts slow, has a nice middle, but it just kind of crashes at the end. The following track, "Leave The Lights On" initially feels like a anther dull track, but despite being an overly slow track, has a nice pick up as it goes, but ultimately doesn't keep interest. The final track, "Winter Song" is a whopping eleven minutes and like the rest of the album it has its great parts, but it also has it's really slow parts. I'm not saying that slow is bad, but in this case it doesn't always work when you compare it to the highlights of the album and Kyp's work with TV On The Radio. Ultimately,
Rain Machine
is not a bad album, in fact it has some of Kyp's most standout work; but in the end, the good work gets drowned out by the not as good tracks, leaving an almost unsatisfied feeling.
Overall Score: 7.8/10
Listen to
Rain Machine
on
MySpace Music
For more on
Rain Machine
visit
Anti Records