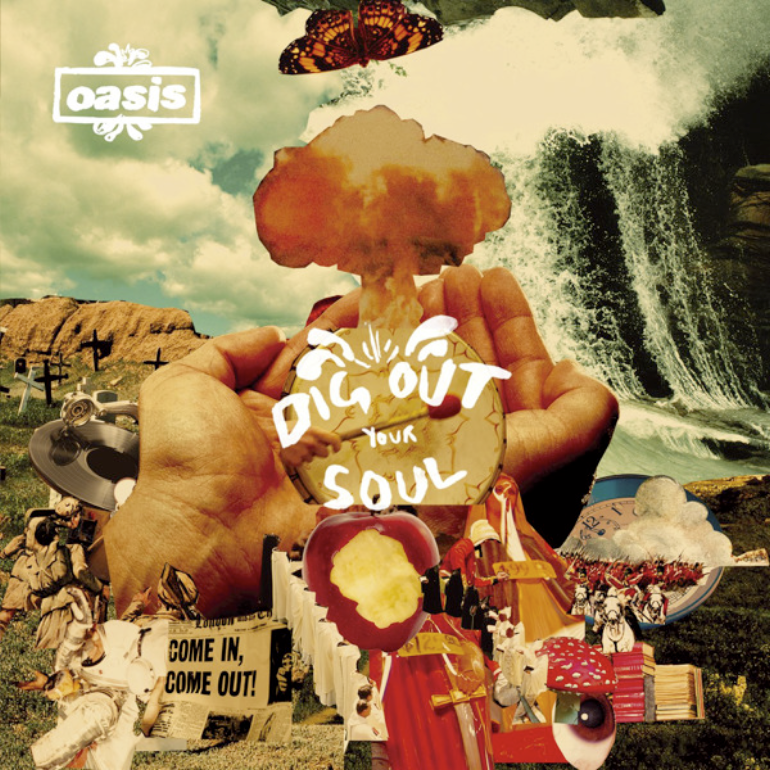 As if I haven't covered it enough, I finally have Oasis' latest album,
Dig Out Your Soul
, in my hands, and I love it! But don't let me get into my love craze just yet, I still need to talk about this record.
Dig Out Your Soul
is Oasis' first new album since 2005's
Don't Believe The Truth
, which, after three years away, was Oasis' real return back in the spotlight. It's now three years since that album, and in the mean time Oasis has released a greatest hits album,
Stop The Clocks
, a documentary of their 2005 tour and single titled, "Lord Don't Slow Me Down". While those 3 years only left us with one new track, the new album more than makes up for it.
And while I am a big fan of all of Oasis' album, I being completely honest when I say this feel's like their most whole album since 1995's
(What's The Story) Morning Glory?
. It may sound a little fanboy-ish, I know, but I've never been so engaged in an Oasis album as much as I am now, and the closest experience is 1995's album. What really make's it great is that Oasis has reinvented themselves, and it's for the better. Don't get me wrong, it still sounds like Oasis' but now there's just more expression, and it works wonders.
Another part of the album I like is Noel Gallagher's presence. While I enjoy Liam's vocal styles, even while it slowly deteriorates, I definitely enjoy hearing Noel's voice every so often.
Dig Out Your Soul
delivers 5 songs with Noel on vocals, a few paired with Liam at one point or another. As with
Don't Believe The Truth
, songs are written amongst all members of the band, not just the Gallagher brothers. However, Noel has the bulk of the tracks this time around.
While I think the album as a whole is great, I'm sure a few of you out there want to know the best songs. Personally, I don't think I'll ever get "Bag It Up" "The Turning" and/or "The Shock Of The Lightning" out of my head, I've just never heard Oasis songs that are so up-beat, catchy, and just sheer, in your face, rock. But there's a balance, with beautiful tracks like "I'm Outta Time" and "Falling Down", the former of which contains an excerpt from a BBC interview with John Lennon, taken just days before his assassination. As stated though, while I feel these stand out the most, you'd be doing yourself a huge favor by listening to
Dig Out Your Soul
as a whole.
However with all of this good there has to be a bad, somewhere, right? Well there is, its length, despite each track being great, the album runs at a total of about 45 minutes. It's not a terrible length, as
Don't Believe The Truth
ran only 42 minutes, and the band's longest album is just over an hour. I just feel that with such good material, it seems to go by way too fast. Other than that, there's no reason for you not to check out this album, fan of the band or not. You have to hear this!
Overall Score
- 9.7/10
I personally went for the single disc version of the album, however there is also a bound, CD/DVD combo that contains a booklet, the album, and a 40 minute DVD of the band's tour and recording sessions. The real reason I didn't go for the CD/DVD? I have collector's OCD, and not only does the binding not match my other, jewel cased Oasis albums, it also had a Parental Advisory logo printed right into the artwork, which just ruins album art for me. Ridiculous, I know.
For more on Oasis visit
oasisinet.com