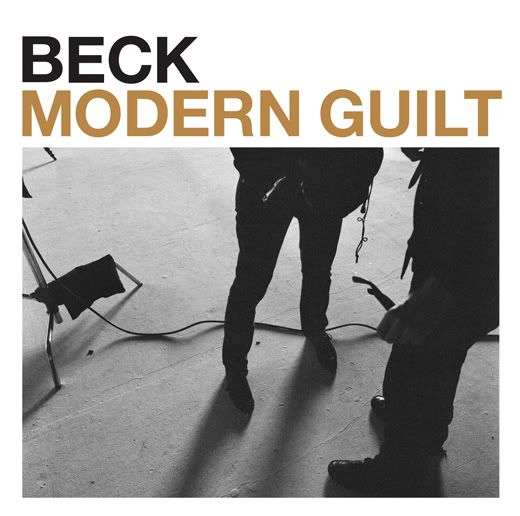 I picked up Beck's latest album,
Modern Guilt
, at Best Buy and I've already gone through it a couple times. And on that little note, it should be stated that this album is short. Just 33.6 minutes to be specific; spread across 10 tracks. But that isn't exactly a bad thing, in fact its almost normal, as most of his albums range from 30-60 minutes. For instance Beck's previous album,
The Information
, was about an hour long, but near the end of the album time just seems to drag on especially with its 11 minute, 3 part closing track. But no worries, none of that is on
Modern Guilt
; who's longest track clocks in at 4:40.
One of the most notable parts of the album is its producer, Danger Mouse, who's work includes Gorrilaz - Demon Days, The Good the Bad and the Queen, and as part of Gnarls Barkey with Cee-Lo Green. This is Beck's first time working with Danger Mouse, but it my opinion it's as if they've been together for awhile. Danger Mouse's signature upbeat style mixes quite well with Beck's mellow vocals. And what's nice is the album offers variety while still feeling as one. Tracks like "Orphans" and "Profanity Prayers" sound like they came from the
Guero
recordings, but someone forgot that these were actually good. Where as songs like "Gamma Rays" and "Walls" sound as if Beck has replaced Cee-Lo on a Gnarls Barkley track. Mix that up with a psycedelic track like "Chemtrails", and you have quite an eclectic mix of songs, even for Beck! But it still works.
And really that's all I can say about this album. It has a lot of variety, and a mixture styles between two inventive artists, and yet it still feels like a Beck album. Sure the
Odelay
-like style brought back by
The Information
is completely ditched this time around, but this just works really well. And as I said about dragging on, the up-beat styles and proportionately timed tracks prevents any sense of dullness. The result is an album that you don't mind repeating over and over because there's always something fresh to here. I understand that this is Beck's final album on his current label; but if he plans to work with Danger Mouse on his future endeavors, I'm all for it.

Overall score: 9/10


For more on Modern Guilt: www.ModernGuilt.com
For more on Beck: www.Beck.com